---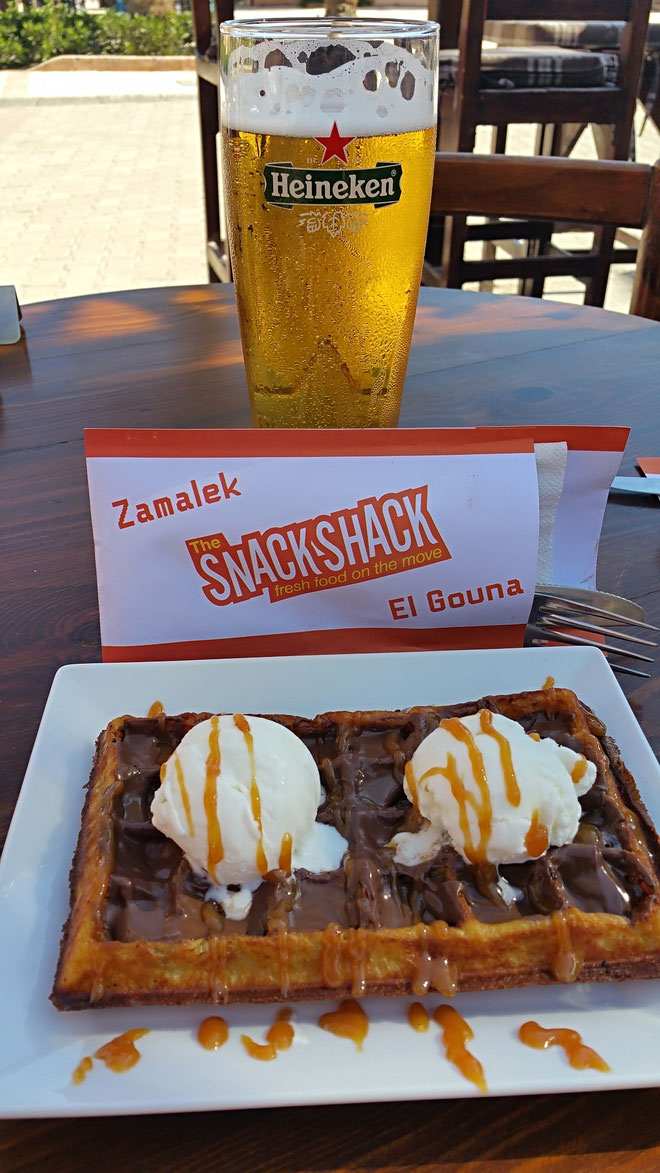 You really hate your job when waking up in El Gouna with stunning great weather when many countries in Europe is waking up to coldness, darkness and snow and you "have" to eat a nice breakfast consisting of a nice focaccia with smoked salmon and avocado, a cold beer, a cup of coffee and a waffle with Nutella and ice cream at Snack Shack.
The good news is that we dont have to wake up to that and the even better news is that you can also have access to El Gouna with only a few minutes drive from Tiba Resort where we have three popular rental apartments available for holiday rentals long term and short term.
Once Tiba View is launched in late 2018, you can be even closer to El Gouna.
So claim your piece of paradise today for a fraction of the price you would pay anywhere else.
You too can eat waffles out of this world for morning, lunch and breakfast if you book your stay with us online using your favourite rental website or book directly with us.
The picture itself says a thousand words and darkness, cold degrees and snow are not one any of those words.
About Us
--------------
Our holiday rentals in Hurghada are located at  Tiba Resort and soon Sheraton Plaza and Tiba View available for holiday rentals as they are being launched with low rental rates despite the fact that we are getting busier by the day as the demand increases.
Get a free home made pizza with two free soft drinks when you rent one of our rental apartments at Tiba Resort located only a few mins drive from El Gouna and only 400m to the public beach and ideal for kitesurfers and watersport fans of all kinds.
Enjoy 10% discount at the Tiba Resort Café throughout your whole stay with us along with other great discounts available in your apartment upon check-in.
Book online today or contact us for more information and remember that you can pay using cryptocurrency such as Bitcoin, Ethereum and other main Altcoins when you book with us directly.
Follow us on Facebook for the latest updates, promotions and special offers.
---
We will welcome you with two free soft drinks and a free home made pizza (Tiba Resort) and other available discounts listed in your apartment. Also enjoy a 10% discount at the Tiba Resort Café when you rent one of our apartments at Tiba Resort in Hurghada. Everything is home made so make sure you enjoy a hamburger with fries, cakes, curry with nan bread, pizzas, ice cream, crispy fish fillets and lots of hot and cold beverages right by the swimming pools or in the swimming pools those really hot days.
---